April 18, 2019
Public 2018: A record-breaking year on all levels
Strong increase in operating profits
€256.4 million (+6,4% y.o.y.) consolidated turnover in Greece and Cyprus in 2018
Spectacular strengthening of operating profits with EBITDA at €9.1 million in 2018, compared to €3.4 million in 2017 (+€5.7 million, x 2,6 increase y.o.y)
Increased its market share in strategic product categories
#1 omnichannel retailer, with 20% contribution of online channel in total turnover
A new record with 79.7 million visits to Public shops & e-commerce channels
Significant sales growth and strengthening of the operating profits over the past five years
Public chain of stores (Retailworld S.A.), a member of the Olympia Group, announced increased sales and record-breaking operating profits in Greece and Cyprus for the financial year 2018.
Consolidated turnover for the 2018 financial year amounted to €256.4 million, versus €241.0 million in 2017, recording a strong increase of 6.4% compared to 2017. There was a significant improvement of the company's operating profits. Specifically, Earnings Before Interest, Tax, Depreciation, and Amortization (EBITDA) for 2018 amount to €9.1 million, marking an increase of more than double the 2017 levels (€3.4 million), recording a rise of +164% year on year.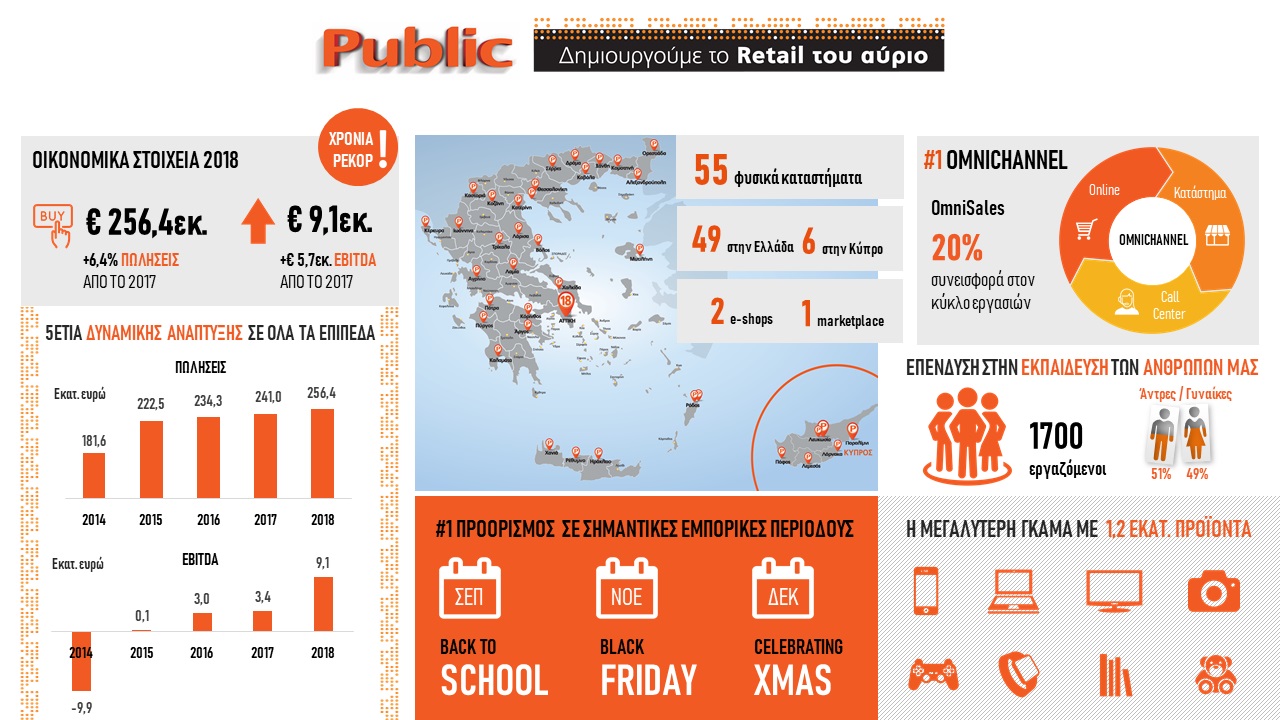 In 2018, Public strengthened its market share in smartphones, as well as in the categories of books, music, films, gaming, mobile accessories, peripherals, wearables, and gadgets. At the same time, it achieved a significant increase in its B2B sales channel, serving 133,000 corporate clients, among which leading groups of companies. The company set a record in terms of visits, with 29.2 million visits to its brick-and-mortar shops and 50.5 million visits to its e-commerce channels. At the same time, maintaining its position of No1 omnichannel retailer, it handled a throughput of 2.2 million products in online orders, with the related sales corresponding to 20% of the annual turnover.
Commenting on the financial results of Public (Retailworld S.A.), the company's CEO Christos Kalogerakis stated the following: "With a borderline upwardly trending market we achieved a significant increase in sales and record-breaking strengthening of operating profits, with more than doubling of our EBITDA. Public recorded an organic growth of 6.4%. The very positive results for the year represent the successful implementation of a five-year strategic plan whose goal was overall improvement in all indicators for customer service, sales and profitability. The year we are now going through is the starting point of a new five-year period, during which with clear strategy and a strong team, we shall continue to dynamically develop all the sales channels, with investments in the field of technology. Our vision is to create the Retail of the Future, further developing the consumer experience on all our channels and providing tools for development to our people."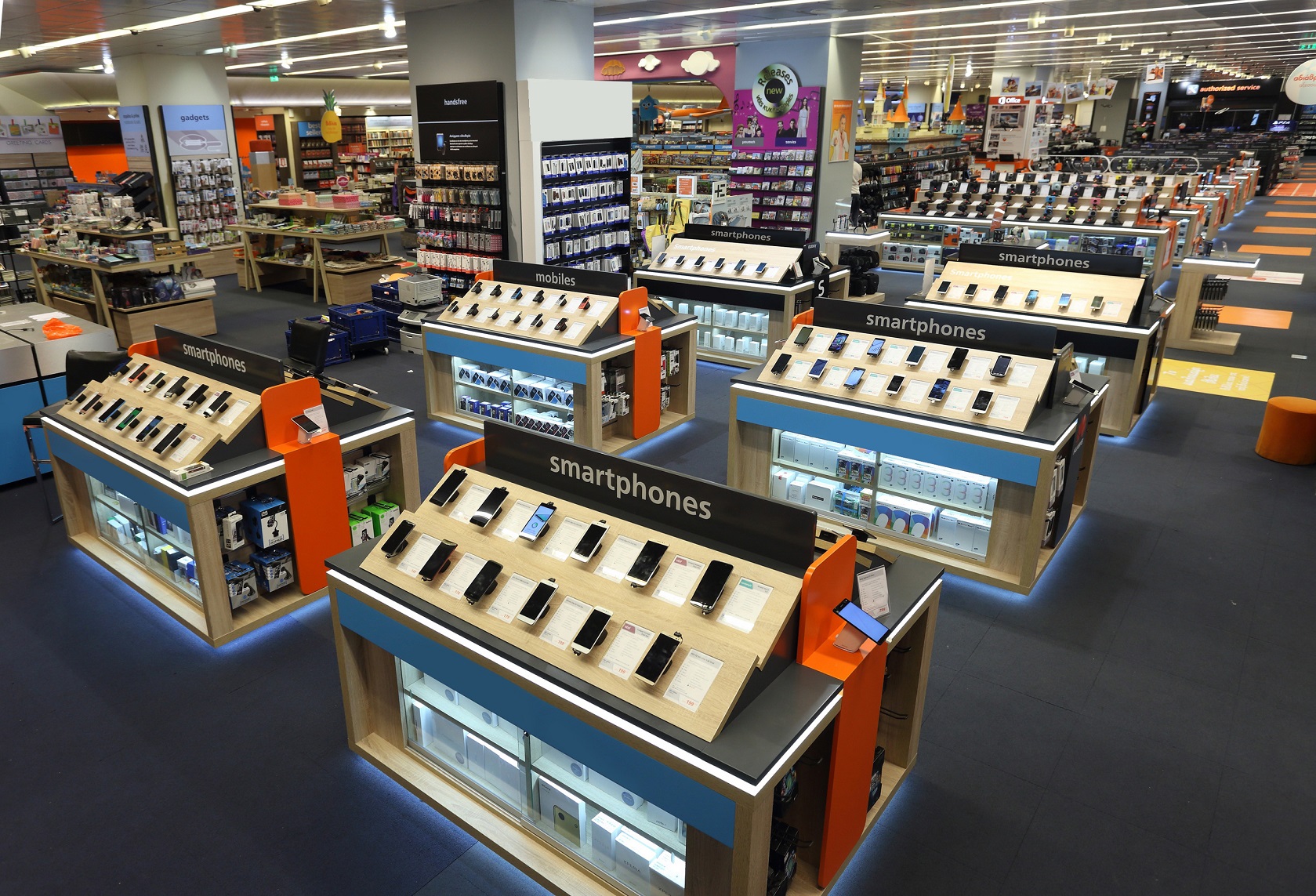 A landmark for last year was also the launch of the first Greek electronic marketplace, through which consumers can find more than 101,000 products from 10 new product categories, while 180 Greek shops gained access to a strong sales channel, public.gr. At the same time, the company brought innovations to its e-commerce channels, as it developed the first voice search service for products in Greece, as well as new search & recommendation tools for the Cypriot market. With regard to the network of stores, the company inaugurated two new shops in Cyprus, while it also proceeded with digitization of its flagship store in Syntagma Square.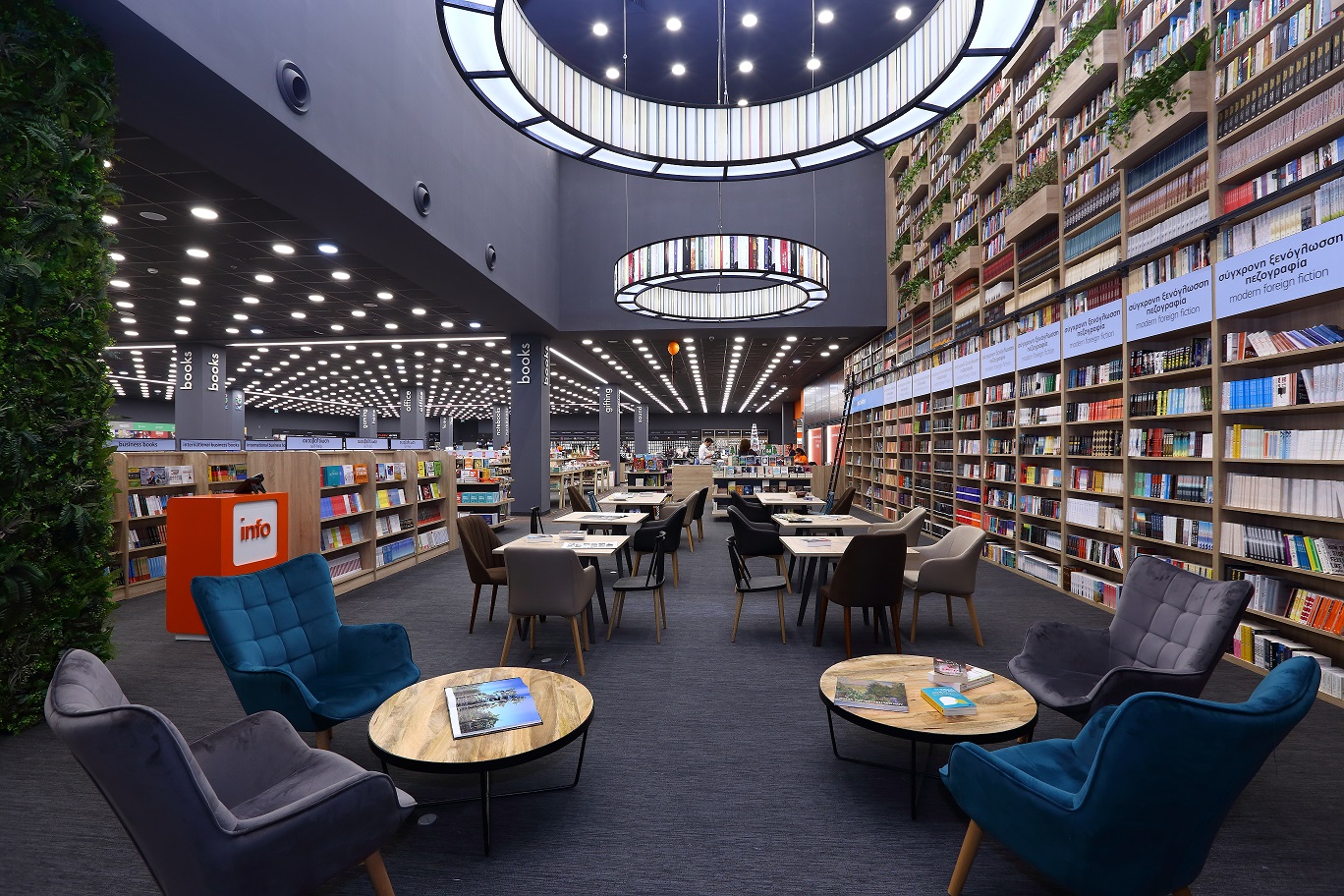 Finally, for yet another year, Public invested in the development of its human workforce. It was the first company in Greece to partner with LinkedIn, providing employees with the international educational platform LinkedIn Learning, with trainees obtaining a total of 1,683 certifications in various fields. Aiming to listen to the voices and ideas of all its people, at its 55 shops in Greece and Cyprus, as well as at its central offices, it also introduced the innovative electronic platform Idea Management, where employees can submit proposals related to business issues that concern the company. During the first round of Idea Management, 122 ideas were submitted, and 3 winning ideas were implemented.